The History Of The Department
Courtesy of Lakeside Ladies Auxiliary cook book.
Back in 1947, several friends who regularly gathered at the lakeside inn known as Bezdeks (later known as Mombasha Inn) became concerned with fire protection in this southern tip of Monroe. In particular they noted the winding and unpaved road, recognized the risks, and subsequently decided to form a fire company.
The original Fire Company was inaugurated as Lake Mombasha Fire Company, but later, to avoid being confused with existing Mombasha Fire Company the name was changed to "The Lakeside Fire Company". It was changed once more in June of 1991 to "Monroe Lakeside Fire and Rescue Company" as a more accurate reflection of the region it serves.
Because the region was not highly populated in 1947, most of the early fires were barn and brush fires. The newly formed fire company purchased its first fire truck from the Mombasha Fire Company - a 1923 Mack truck that had no roof, a hand cranked siren, and could be outrun on foot.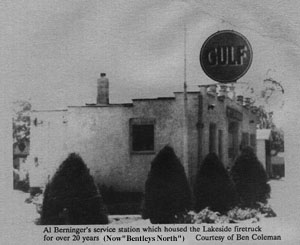 Al Berninger who was the fire chief throughout the 50's kept the fire truck at his service station garage (now known as 'Bentleys North') until the new firehouse was built across the street in 1970. The First set of officers for Lake Mombasha Fire Company included: Harry Bonser, Ken Lewis, George Kup Jr., Bernard Judson, and Ernest Kloiber.
The original complement of volunteers numbered 19, compared to today which numbers over 44; 11of whom are certified EMT-D's.
From its modest origins, the Monroe Lakeside Fire & Rescue Co. Inc. has grown alongside its community. The volunteers pride themselves on their level of preparedness, and all members are cross-trained in rescue and EMS procedures.
MLF&R run fire and rescue drills every Monday evening. The range of drills run from Driver Training (for safe, effective operations, and getting to and from scenes) to Automobile Extrication (Cutting up cars) To live
burns at the Fire Training Center.